Making all Things New
Wednesday, April 20, 2022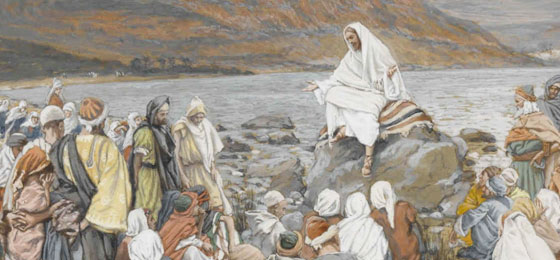 Although we are five full weeks into the celebration of Easter, today's readings focus on newness. Our Easter food leftovers may be long gone, but the readings insist on every moment's freshness in the risen Jesus. The Acts of the Apostles depicts Paul and Barnabas reflecting on all the innovative work that God has done with them. They have traveled hundreds of miles, introducing faith in Jesus Christ to all who listen, even Gentiles.
For the dutiful Jewish scholar Paul, preaching to Gentiles is a completely unique development. Jesus calls Paul, and us, not to be afraid of new challenges: as John the Evangelist reports in Revelation, Jesus promises to "make all things new." In the Gospel reading, Jesus even gives us a new commandment. The Hebrew Scriptures overflow with commandments, but Jesus knows we need one more, perfect mission: "love one another."
Prayer of the Week
Almighty ever-living God, constantly accomplish the Paschal Mystery within us,
that those you were pleased to make new in
Holy Baptism
may, under your protective care,
bear much fruit
and come to the joys of life eternal.
Through our Lord Jesus Christ, your Son,
who lives and reigns with you
in the unity of the Holy Spirit,
God, for ever and ever.
Reflection question:
What does it mean for me to bear fruit for the reign of God?
Hacer Nuevas Todas Las Cosas
Aunque ya llevamos cinco semanas completas de celebración de la Pascua, las lecturas de hoy se orientan en la novedad. Puede que lo que sobró de la comida de Pascua ya se haya terminado desde hace tiempo, pero las lecturas insisten en la frescura de cada momento de Jesús resucitado. El libro de los Hechos de los Apóstoles describen a Pablo y a Bernabé reflexionando sobre todo el trabajo innovador que Dios ha hecho con ellos. Ya han recorrido cientos de millas, presentado la fe en Jesucristo a todos los que los escuchan, incluso a los gentiles.
Para el judío erudito y obediente de Pablo, la predicación a los gentiles es un hecho completamente único. Jesús llama a Pablo, y a nosotros, a no tener miedo de los nuevos retos: como informa el evangelista Juan en el libro del Apocalipsis, Jesús promete "hacer nuevas todas las cosas". En la lectura del Evangelio, Jesús nos da incluso un mandamiento nuevo. Las Escrituras hebreas tienen un exceso de mandamientos, pero Jesús sabe que necesitamos uno más, una misión perfecta "amarnos los unos a los otros".
Oración De La Semana
Dios todopoderoso y eterno,
lleva a su plenitud en nosotros el sacramento pascual,
para que, a quienes te dignaste renovar
por el santo Bautismo, les hagas posible,
con el auxilio de tu protección,
abundar en frutos buenos, y alcanzar los gozos
de la vida eterna. Por nuestro Señor Jesucristo,
tu Hijo, que vive y reina contigo
en la unidad del Espíritu Santo
y es Dios por los siglos de los siglos.
Pregunta de reflexión:
¿Qué significa para mí dar fruto para el reinado de Dios?