A Message from Fr. Damian
Thursday, April 8, 2021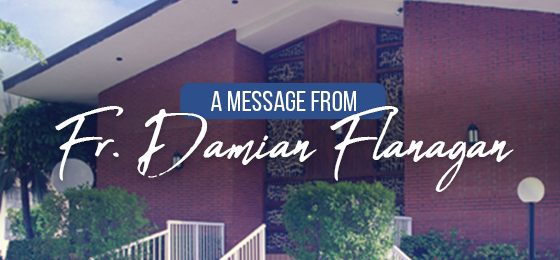 We urge parishioners to petition Congress to keep Hyde Amendment provisions barring tax payer monies for paying for abortion. Please see letter attached.
Le pedimos a los feligreses a solicitar al Congreso que mantenga las disposiciones de la Enmienda Hyde que prohíben el dinero de los contribuyentes para pagar el aborto. Por favor mire la carta adjunta.
In today's Gospel reading from John about the multiplication of the loaves, Jesus was acutely aware that the crowd gathered to hear him speak needed to be fed. He even tested Philip, asking him where they might buy enough food to feed everyone. And then Andrew proffered, "There is a boy here who has five barley loaves and two fish; but what good are these for so many?"
We all know how the story ends. "And indeed it came to pass as there was more food in the baskets in the end than before they started passing them through the crowd." But how was that possible? Was the endless multiplication of the fish and five barley loaves the only miracle on the hillside that day, or was there another miracle?
John does not tell us what Jesus' sermon was about that day, but one might be safe in assuming "love" and "respect and concern for each other" – two constants in the message of the Gospels - may well have been the theme of his talk.
Close your eyes and consider this: After the multitude heard such a message, and as the baskets of loaves and fish were being passed, could those who were wise enough to have brought some food with them been so moved by Jesus' message of love and compassion that they decided that in addition to taking a little out of the basket, they would also put a little bit back into the basket, so those less fortunate could have something to eat? If true, then that, too, was a miracle. Perhaps rather than creating an endless supply of bread and fish, Jesus taught the assembled multitude to love and to have faith in each other, and convinced them that even if they shared what meager food they had, their own needs would still be met.
The same message Jesus gave to the multitude that day, about generosity and giving without counting the cost (as I have imagined today in my reflection), is one we hear today. But are we listening? Are we willing to share what we have with the poor and needy, or do we think that one person will miraculously appear and satisfy the needs of those less fortunate? Are we willing to help fill the baskets of the food pantry when called upon or share our earnings when the basket is passed in church?
Just think what a miracle it would be if we, like the masses assembled on the hillside, put in a little bit more then we took out, gave a little bit more of ourselves to those we love than we expected in return. Isn't that what we as Christians are called to do?
En la lectura del Evangelio de hoy de Juan sobre la multiplicación de los panes, Jesús estaba muy consciente que la multitud que se reunía para oírlo hablar necesitaba ser alimentada. Incluso puso a prueba a Felipe, preguntándole dónde podían comprar suficiente comida para alimentarlos a todos. Y luego Andrés dijo: "Aquí hay un niño que tiene cinco panes de cebada y dos pescados; pero ¿Qué es eso para tanta gente?
Todos sabemos cómo termina la historia. "Y de hecho sucedió que al final había más comida en las canastas que antes de que comenzaran a repartirlas entre la multitud". Pero ¿Cómo fue eso posible? ¿Fue la multiplicación interminable de peces y cinco panes de cebada el único milagro en el monte ese día, o hubo otro milagro?
Juan no nos dice de qué se trataba el sermón de Jesús ese día, pero uno podría estar seguro al asumir que el "amor" y el "respeto y preocupación del uno por el otro", dos constantes en el mensaje de los Evangelios, bien pueden haber sido el tema de su charla.
Cierren los ojos y consideren esto: Después que la multitud escuchó tal mensaje, y mientras pasaban las canastas de panes y pescado, ¿Podrían aquellos que fueron lo suficientemente sabios como para haber traído algo de comida con ellos estar tan conmovidos por el mensaje de amor y compasión de Jesús que decidieron que además de sacar un poco de la canasta, también volverían a poner un poco en ella, para que los menos afortunados pudieran tener algo de comer? Si es cierto, eso también fue un milagro. Quizás en lugar de crear un suministro interminable de pan y pescado, Jesús le enseñó a la multitud reunida a amarse y a tener fe los unos en los otros, y los convenció que incluso si ellos compartían la escasa comida que tenían, sus propias necesidades seguirían siendo satisfechas.
El mismo mensaje que Jesús dio a la multitud ese día, sobre la generosidad y el dar sin contar el costo (como yo lo he imaginado hoy en mi reflexión), es el que escuchamos hoy. ¿Pero, nosotros estamos escuchando? ¿Estamos dispuestos a compartir lo que tenemos con los pobres y necesitados, o creemos que una persona aparecerá milagrosamente y satisfará las necesidades de los menos afortunados? ¿Estamos dispuestos a ayudar a llenar las canastas de la despensa de alimentos cuando se nos solicite o a compartir nuestras ganancias cuando se pase la canasta en la iglesia?
Sólo piense en el milagro que sería si nosotros, como las masas reunidas en el monte, pusiéramos un poco más de lo que sacáramos, diéramos un poco más de nosotros mismos a los que amamos que lo que esperábamos a cambio. ¿No es eso lo que nosotros, como cristianos, estamos llamados a hacer?
Padre Damian