A Message from Fr. Damian
Wednesday, September 1, 2021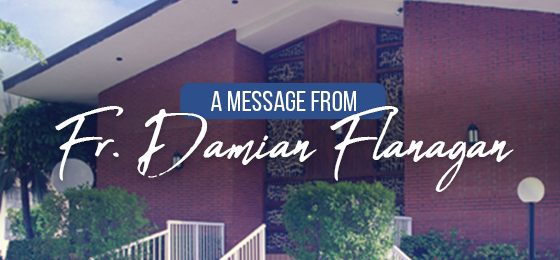 I love what Moses says to the young man who was scandalized that the two stray men received the Holy Spirit, but not in the "planned" way. I love that Jesus has the same response when his disciples are upset that someone else - who isn't a "regular" follower - was driving out demons in Jesus' name. That's the first grace of these readings for me, for us all.
God's grace and God's gifts don't always come in the pathways we always expect. It is an unfortunately natural, jealous reaction in us that resents that someone isn't a follower of Jesus "the right way." And, we miss the grace, the presence of the Lord working in that person, through that person, because it isn't happening the "approved way."
We can too often easily condemn others - whether they are bad sinners or just people who don't seem to be "following the rules." Jesus sees the presence of the Spirit, where we might not. So, we can be encouraged to look more deeply for the effects of the Spirit's working, rather than the externals. Each of us can discover ways we do this.
The easiest way to begin that journey is for us to recognize the problem. Why am I so judgmental? Why do I seek to have more, to look like I'm better than others? Why does justice or care for those on the margins come with difficulty? What causes me to sin? What underlying unfreedom is in me? From there, we can ask for forgiveness and healing. And, asking for healing can lead us to identify what instincts, practices and habits I can change. Change is difficult. We only change something which has become habitual when we arrive at a deeper desire for something else. Otherwise, it is so easy to deny we have a problem - even when we know we aren't happy. When we experience God's love and mercy filling our heart with gratitude, then we can want to be closer to the one who loves us. Being closer to Jesus leads us to want to be more like Jesus. Gradually, his love heals the wounds and the brokenness and helps make our heart like his.
Father Damian
Me encanta lo que Moisés le dice al joven que estaba escandalizado que los dos vagabundos recibieran el Espíritu Santo, pero no de la manera "planeada". Me encanta que Jesús tenga la misma respuesta cuando sus discípulos están molestos porque alguien más, que no es un seguidor "regular", estaba expulsando demonios en el nombre de Jesús. Esta es la primera gracia de estas lecturas para mí y para todos nosotros.
La gracia de Dios y los dones de Dios no siempre vienen en los caminos que siempre esperamos. Desafortunadamente, esta es una reacción de celos natural en nosotros que nos molesta que alguien no sea un seguidor de Jesús "de la manera correcta". Y nosotros negamos la gracia, la presencia del Señor obrando en esa persona, a través de esa persona, porque no está sucediendo de la "manera aprobada".
Con demasiada frecuencia nosotros podemos condenar a otros fácilmente, ya sean malos pecadores o simplemente personas que no parecen "seguir las reglas". Jesús ve la presencia del Espíritu, donde es posible que nosotros no. Por lo tanto, nosotros podemos animarnos a buscar más profundamente los efectos del Espíritu obrando, en lugar de los externos. Cada uno de nosotros puede descubrir formas de hacer esto.
La forma más fácil de comenzar ese viaje es que reconozcamos el problema. ¿Por qué soy tan prejuicioso? ¿Por qué busco tener más, para parecer mejor que los demás? ¿Por qué resulta difícil la justicia o el cuidado de los marginados? ¿Qué me hace pecar? ¿Qué inseguridades para obrar hay dentro de mí? A partir de ahí, nosotros podemos pedir perdón y sanación. Y pedir sanación puede llevarnos a identificar qué instintos, prácticas y hábitos puedo cambiar. Cambiar es difícil. Nosotros sólo cambiamos algo que se ha vuelto habitual cuando llegamos a un deseo más profundo por otra cosa. De lo contrario, es muy fácil negar que tenemos un problema, incluso cuando sabemos que no somos felices. Cuando nosotros experimentamos el amor y la misericordia de Dios llenando nuestro corazón de gratitud, entonces podemos querer estar más cerca de quien nos ama. Estar más cerca de Jesús nos lleva a querer ser más como Jesús. Poco a poco, Su amor cura las heridas y el decaimiento y ayuda a que nuestro corazón sea como el suyo.
Padre Damian